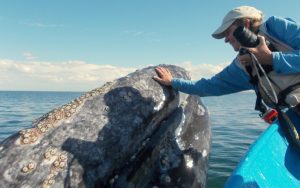 SHARI BONDY…founder of Whale Magic Tours
I began observing whales in 1980 on Vancouver Island where there are gray whale feeding grounds. After having my life saved by two fin whales in Mexico(another story!) I realized there was much more to these gentle giants than meets the eye so I dedicated my life to finding out why whales do what they do.
I began my research by reading everything I could find on whales and hanging around marine biologists and pummeling them with questions. I learned there was alot of biological information but very little known about their common behavior so I realized I just had to get out there and observe  them for myself.
Luckily there were several gray whale feeding grounds where I lived in Tofino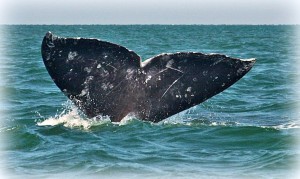 B.C., Canada where I could observe the whales going about their daily routines of feeding, napping and playing.  I set out on my tiny inflatable raft to get to know the whales in my neighbourhood . I spent countless hours on the water among the whales to learn first hand about their social activities and behaviors.
Soon, word got out about my whale sojourns and people started to come down to the dock and ask me if they could tag along. Some offered to pay the gas and bring lunch so I thought, hey why not, it was nice to have some company out there and share my discoveries with my passengers.
As more and more folks showed up who wanted to see whales, I got the idea that I could fund my research by taking people out with me and thus founded the first zodiac whale observation tours on the west coast of Canada. I am proud to have pioneered the concept of providing informative narratives to teach her passengers how to appreciate whales in a new light.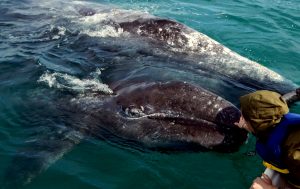 I found I missed my whale friends in the winters and so I decided to migrate with them down to Baja Mexico where I set up camp in the calving lagoon Ojo de Liebre (Scammons Lagoon) to observe and record calf development from the day they are born until they leave on their grueling northern migration.
I was proud to participate in developing the regulations to protect the whales in the lagoons,the census taking, photo identification and training the guides so that they would  approach whales respectfully. I have watched whale watching grow and continue to guide tours in both areas of the lagoon sharing my knowledge and expertise with my guests.
It is with great pride & joy I can share a little whale magic with YOU!
MEET OUR NEWEST NATURALIST DIRECT FROM ICELAND….JUDITH SCOTT
Whale Magic Tours is excited to welcome Judith Scott to our team of naturalists. Judy has
extensive experience guiding whale tours not only in Baja but in South Africa, Norway, Australia, Massachusetts, California and was the first whale guide in Iceland where she currently works! She has been whale watching off every continent including Antarctica. Imagine the stamps in her passport!
She is an accomplished photographer, researcher and educator teaching whale biology, conservation and ecology and is a trained Marine Mammal  medic. We are so lucky she is joining our team this February in the lagoon and will be the resident naturalist at our remote Whale Camp. Imagine the campfire whale's tales she will share with our guests!
ZIHUL MARTINEZ….NATURALIST GUIDE EXTRAORDINAIRE!
Whale Magic is honoured to have Zihul Martinez on our team of professional naturalists. He lives in Guerrero Negro and teaches Alternative Tourism at the local University and is a certified guide who takes our guests on natural history tours in the local area to cave paintings, the Pronghorn Antelope Preserve, Salt Works, Bird-watching and Whale tours. He is extremely knowledgeable and loves sharing Baja lore. He is bilingual and an amazing artisan specializing in making knives and jewellery and has a fantastic shop in town you will want to visit.
SIRENA ARCE BONDY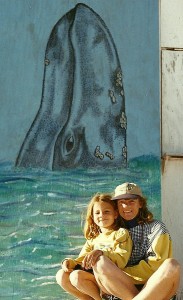 Ojo de Liebre has always been a magical place for us as that is where my daughter Sirena was conceived and raised on the shores of the lovely lagoon with the sound of thousands of breathing whales in the background.
We were fortunate to spend many years at our camp there sharing our knowledge and stories with other whale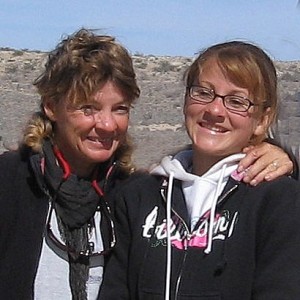 enthusiasts and continue to do so. Sirena is now a mother of two boys now and will be guiding with me full time this season.
                  LA-MAR ECOTOURS    A  NEW PARTNERSHIP

It is with great pride and pleasure that I announce my involvement in a new ecotourism project in Laguna Ojo de Liebre called La-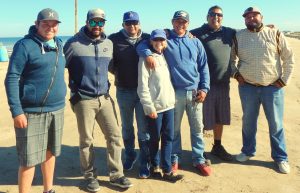 Mar Eco-tours…short for Laguna Marina Eco-tours. I was invited in 2016 to work with this vibrant group of young second generation fishermen as they embark on an exciting venture to provide them with sustainable jobs in marine tourism for their future and protect their valuable ecosystem.
Their fishing cooperative has been operating in the Guerrero Negro area and the lagoon since 1969 but when the Vizcaino Biosphere Reserve was formed and commercial whale watching began, the fishermen agreed to stop fishing in the lagoon in order to protect the Gray Whale nursery. In order to compensate for the loss of income, the cooperative has received government assistance and been granted permits to carry out whale watching and other tourist activities which gave rise to the formation of this ecotourism sector within the coop.
 The group's enthusiasm is refreshing and they have many excellent ideas for building a healthy ecotourism camp including not only whale watching but birding, kayaking, sport fishing, remote camping, hiking, workshops & courses. They hope to attract educational groups as well as tourists to their unique wilderness camp that opened in 2018.
The year round camp is located in a pristine area of the lagoon called Carros Viejos where giant white sand dunes meet the sea. The camp has a deep water canal close in to the beach where whales pass by within 30 meters of the shore offering incredible land based whale watching from January to April.
The cabins are well appointed with everything you need with a spectacular view of the lagoon in front. There are flush toilets, a hot shower, electricity for charging batteries, beach chairs and shade area and miles of pristine beach to explore.
Fre
sh local seafood & healthy meals are prepared by the chef and Baja wines are available with meals. The staff is friendly, helpful & well trained with a paramedic onsite as well. The spacious super pangas are very stable and take groups of 12 passengers.
We offer a variety of packages from half day whale watches, full day trips with extended whale watches and a seafood lunch at their camp in the dunes.
I took an active role in training these wonderful young men how to successfully & safely approach and develop relationships with whales and tourists too! I am delighted to be a part of this new team and will assist them with promoting their ecologically and socially responsible project.
So Whale Magic will be offering more in depth naturalist guided whale trips with this new company providing unique, intimate, educational tours. Reserve well in advance to get the dates you want as there will be limited space of 12 at whale camp.
EJIDO BENITO JUAREZ WHALE WATCHING COMPANY CREW
Over the years the Benito Juarez group and I have become a great team, more like a family. We  work very well together in the inner lagoon nursery to bring you a safe and wondrous whale experience. Here are some of the lancheros…a few who have worked with the whales for over 20 years and have taught their sons to do the same!