Reserve Now for 2023 as many tours are already full! Tours usually run from mid January to the end of March unless the whales arrive earlier!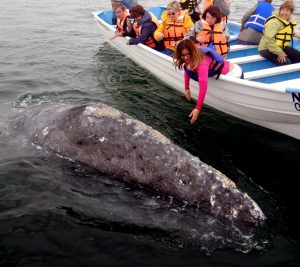 Whale Magic Tours offer a unique, educational experience with naturalist guided day trips that include an extensive Whale Talk at breakfast, transport to our camp and extended whale tour. We return to Whale Camp for lunch & chat about our whale experience, relax or take a beach walk before we return to town.
Choose from a variety of package options with hotel accommodations or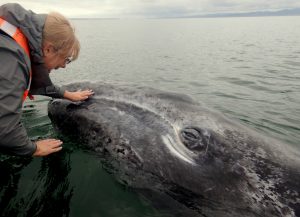 stay out at our remote Whale Camp. You can drive yourself, fly-in, or arrange van transport to Guerrero Negro.  Everything is arranged for you so you can relax and enjoy a magnificent whale adventure.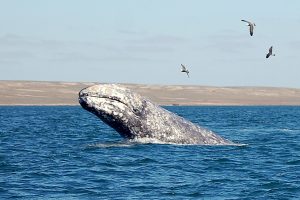 Our tours operate out of the middle lagoon which is the narrowest and most protected part of the lagoon to provide the best possible whale encounters in any weather condition.
We can organize another activity in the afternoon like a visit to the pronghorn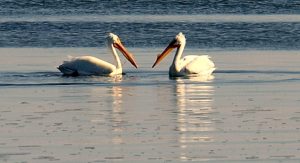 antelope reserve, bird-watch at the estuary or tour the Salt Works. Join one of our tours from Jan- March to experience whale magic for yourself!
Economy HOTEL PACKAGES  Hotel Baja Oasis
3 NIGHT/2 DAYS of  WHALE WATCHES   $525 couple (10,500pesos)  ($340 single)
3 nights in a hotel, 2 full day tours that include breakfast, transport, naturalist guided extended whale tour & seafood lunch the dining facility at our whale camp.
2 NIGHT/ Day Trip WHALE WATCH
$325 per couple(6,500 pesos) ($210 single)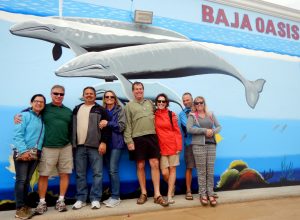 2 hotel nights, breakfast, transport, extended whale tour &  lunch at camp.
THE OVERNIGHTER  $275 (5,500 pesos) per couple, $150 single
1 night in a hotel, Whale Watch Day Trip
A LA CARTE WHALE WATCHES AVAILABLE ON A STANDBY BASIS    
$90(1,800 pesos) for Full Day with lunch 
 WHALE  MAGIC BEACH CAMP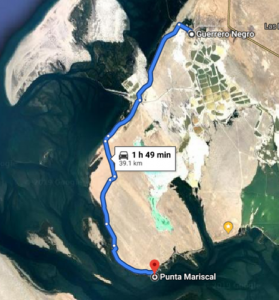 After years of dreaming and planning we are proud of our own private Whale Magic Camp in the middle lagoon where whales frolic very close so you can hear and watch them from shore. This is the narrowest part of the lagoon so there is a larger concentration of whales to play with there which means we are with whales within moments of getting on our pangas.
We have 2 pangas rated for 14 people for our groups & I personally trained our guides & pangeros to be respectful of both the whales and our guests and each panga has a naturalist of course. Your vehicles are parked in a compound & we bring you to the camp in our vans.

Whale Magic Camp is a private, intimate camp that accommodates a maximum of 14 people in beautiful, new, heavy duty springbar canvas tents with sturdy large cots & beds with memory foam mattresses on them with bedding, towels & beach chairs provided.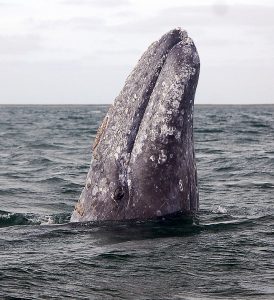 Listen to the whales breathing at night & enjoy the dark sky for star gazing. It is solar powered & we have a charging station for  your cameras & phones. There is no cell service there but we have contact with our office via radio.
Meals will be healthy using local produce featuring seafood from the lagoon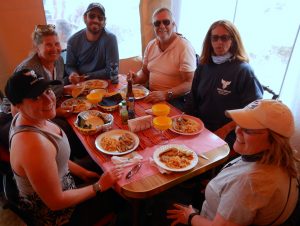 like fish of the day, crab, oysters, scallops & clams prepared by our camp cook served in the commons tent. There is a shower and latrines and you can swim right at the camp. Special dietary needs are no problem.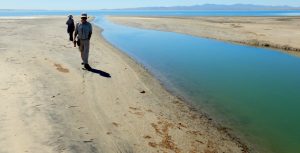 The area is fantastic for bike riding, hiking and fossil hunting in the afternoons or taking a siesta or a swim and watching whales from your tent, or if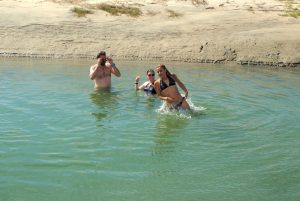 weather permits you can whale watch again in the afternoons. We also have a nice library of whale books & games to keep you busy and camp hosts are happy to talk whales all day long!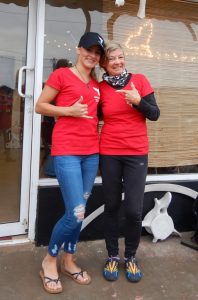 I am proud of our wonderful tribe who strive to make your visit a memorable, safe & educational one. My daughter Sirena, who was raised with whales in the lagoon is the camp guide. So come and join us for a magical experience at the Whale Magic Camp!
Whale Camp fills up fast so book early!
WHALE MAGIC CAMP PACKAGE 
$990 couple ($570 single)
1 hotel night/2 nights glamping in expedition tents, educational program, transport, guided whale watches, healthy meals with fresh seafood, glamping tent with bedding & towels.

DEPOSIT $100 P/P to confirm a reservation
Dates/Info contact   whalemagictours@gmail.com
call Mexico  (from USA dial 011 52)615-155-7197
USA # 619-906-8438    (internet phone not always on)
************************************************************************
TRIP INFORMATION
Hotel Info  
To find Hotel Baja Oasis, turn right at the street past the big orange water tower on the main street, then left at the first street, and we are half a block down on the left. Check into my Whale Magic office next to the hotel office.
The  hotels arent fancy so they dont have washcloths or blow dryers & I always bring my own pillow and extra blanket if possible!
We will have an orientation when everyone arrives and the restaurant onsite has excellent fresh seafood and we have our whale talk at breakfast!
****DON'T FORGET THE TIME CHANGE…WE ARE ONE HOUR LATER in Baja Sur !!!
Boat (Panga) info – The boats we will be whale watching from are open pangas that take up to 14 passengers. If the weather is rough or the whales are frisky,  you may get some spray or splashed. Please bring a waterproof  jacket. Don't forget your camera, spare batteries, data card and sunscreen. ***Bring some small bills along to tip your boat driver & guide.

Clothing – It's winter so it can get cold but it is usually temperate and often warm like summer. You may want to bring jackets, warm hats and wet gear for when you get sprayed by a whale or if it is windy! Best to dress in layers.
Travel/Immigration Documents – Ensure you and those in your vehicle have your travel documents current and in order. These documents include your Passport & FMM's (Tourist Visa )you get at the border. If you do not have proper documents you may be fined or sent back north to the border to obtain them…..also, your Mexican liability auto insurance may not be valid.
Money – Although most businesses take American dollars, you have the advantage if you use Pesos. Pesos are easily obtained from ATM's along the way (Ensenada, San Quintin and Guerrero Negro). When using an ATM you get the current daily exchange rate. If you use American dollars smaller bills are easier to handle. Businesses in Baja/Mexico do not accept travelers checks. ***Most businesses south of Ensenada DO NOT take credit cards!!
Before you enter Baja, call your VISA card and ATM card banks and inform them you will be on vacation and using your cards…..if you do not, they may "lock-up" your card!
**We require a $100 deposit per person to confirm your reservation non- refundable after December.If a shut down due to COVID happens there is a full refund. The best way to send it is using "Wise.com" that has no fees and a great exchange rate better than the banks. I will send you my bank info at the time of booking. Here is the link and bank info and please attach at not with your name & dates to it.
SHARI  LYNN  BONDY      Phone: 615 155 7197  #1 calle Almeja, Bahia Asuncion,  Baja California Sur,  23960      Municipio: MULEGE
BANK NAME:        BBVA Bancomer     ACCOUNT NUMBER:       0467937229
IBAN   Inter Banking #(Clabe):    012040004679372294
Bank Addres: Carretera Transpeninsular KM 144, Loc Vizcaíno, BCS, México         TELÉFONO:  01 615 156 4610, 156 4609
 ***********************************************************************FLIGHT OPTIONS
AEROSERVICIOS GUERRERO NEGRO   from Ensenada flies Mon/Wed/Fri   Approx. 2,500 pesos each way
Air Charter from Tijuana to Guerrero Negro and back is about $700 a person based on a full plane of 13 people.
AERO CALAFIA    aereocalafia.com.mx
Private  Charter Flights leave from Brown's Field in San Diego (passengers can be picked up at another airport for an additional charge)