Ojo de Liebre                  WHALE MAGIC REPORT          2014

  Sirena & I would like to thank all the wonderful people    who made our 2014      so special. It was a very successful three months in the lagoon with great weather most of the time and of course brimming with whales.
The peak was reached in mid February with an impressive total of 2,107 which was about 500 more animals in the lagoon than last year!!! There were 1,241 adult whales and 866 calves were born. So it was a very strong year for whales in Ojo de Liebre that got underway a couple weeks earlier than usual probably due to very cold weather up north early on in the fall.
We had many many friendly whales this year nearly every day and it seems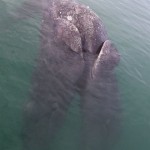 this behavior is on the increase year after year. Notable events were the birth of the worlds first ever recorded conjoined twins born on Jan.5th and the valiant effort of the fishermen and Biosphere Reserve staff to save a stranded baby whale which was successful and she was adopted by another nursing whale and possibly even helped by other mothers. That baby was very friendly with the pangas and quite a character.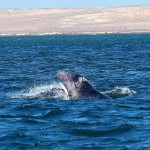 Memorable whales were "La Pelotera" who liked to head butt the boat as if playing with a soccer ball. "Cloud"  was named for the big gray clouds she had all over her body. She and her calf were very friendly and gentle. Crazy Calf was a male calf who loved jumping & porpoising constantly…he was always going off in every direction and sometimes very close to the panga. "Colgate" was a calf who opened her mouth a lot so we could see her shiny new baleen just like a colgate smile.
But my favorite whale was "Fingers who had half of her tail fluke formed like a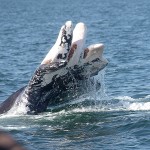 hand with fingers, likely a result of an accident with a propeller when she was young. She was a very affectionate whale as was her calf and she stayed around till the end of March. She is rather famous for her…promiscuity as she has a calf nearly every year!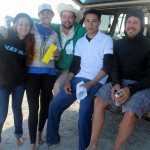 It was great to have Sirena at the camp all season as well as my valued assistant Amelia who not only made my life easier but way more fun with our dance sessions. We made a great team and had a lot of fun, and a big round of applause for my friend  Paul, our mentor for my grandson Izzak as well as others who drifted in and out of the camp. One visitor called us the "good vibes tribe" and we enjoyed meeting so many new and interesting people at the camp.
This was the first year I had a GoPro video camera so I had a real learning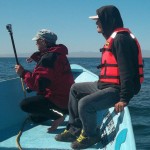 curve to master. I am very excited about the quality of footage I can get and look forward to next seasons filming now that I have a better idea how to best use the camera and what to film for our group videos.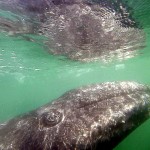 I spent months learning how to edit the footage and produce videos. Here are some I put together from our tours. Next season we plan to offer high quality videos of our group tours and I have some neat ideas in mind for them.  I am also working on a Gray Whale behavior video to show at the Interpretive Center.
Here are some videos from this season….enjoy.
Ojo de Liebre   WHALE WATCH TOUR VIDEOS   2014
March 2           Neuroscience Students Trip  

March 8               DICK KASHEY Group

March 10-11        Boots N Pants Trip

March 12, 2014    Champagne Trip

March 13th              PIPER TRIP

MARCH 16              HEAFY GROUP Trip

March 18-19         SIGI TRIP